Earth / Ground Resistance Testers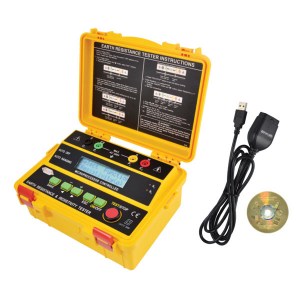 Earth Ground Resistance Meter
JUTECH Tester provides the best quality earth resistance tester with a current ART testing measurement feature. With this feature, on-site earthlings may be checked individually without disconnecting utilities.
Earth ground resistance meter assesses soil resistance to electric current to provide a safe and properly functioning electrical system. This ensures an appropriate channel for fault currents, an essential component of a safe and properly operating electrical system.
What is an Earth Ground Resistance Meter?
To avoid expensive service disruptions due to bad ground conditions, it is vital to accurately assess ground resistance. We have the broadest selection of earth's ground resistance meters available.
Earth's ground resistance meter enables proper earth grounding installation. It is a piece of equipment in a store that can ground structures, equipment, or gadgets.
Grounding involves thorough testing before, during, and after installation. Earth testers and other earth testing equipment are often used in this industry to evaluate grounding, enabling users to test voltage (system and static electricity voltages), current (system and leakage currents), and resistance (ground system resistance, soil resistance, and soil PH measurements).
Characteristics of Ground Resistance:
Ground resistance is the sum of the grounding conductor's resistance, the grounding conductor's contact resistance with the earth, and the earth's resistance. Unlike other resistors, ground resistance has the following characteristics:
A grounding electrode's resistance to the earth. It can't be measured without a ground electrode. Because the earth has low resistivity, a voltage drop occurs at the electrode from which the measuring current flows. So, to correctly measure the resistance of each grounding electrode (E, S, and H), you must travel roughly 10 m away.
Ground resistance measurement is affected by ground potential and the additional grounding electrodes. Ground potential from devices attached to the grounding electrode affects the ground resistance tester's signal, influencing measured readings. Also, high ground resistance auxiliary grounding electrodes reduce measurement current, making noise effects like ground potential more vulnerable.
The earth, being an electrolyte, polarizes DC currents, making precise measurement difficult. Ground resistance is often measured as a square or sine wave of several hundred to one kHz.
Earth Tester Types:
An earth ground resistance meter may be used for various earthing tasks because of the market's wide variety of earth tester models. Ground resistivity and soil pH meters are only some of the instruments available. Besides, various add-ons are available for these various products, enhancing the tester's full functionality. Earth spikes, cable reels, and attachable optional clamps are accessories often used with earth testers.
Just Chester can do four kinds of earth-ground measurements and save results through USB. This tester can measure ground loop resistance with just clamps. No earth-ground posts or ground rods are required. This unique tester is a must-have for every engineer's testing equipment.
Manufacturer:
Select manufacturer