Milliohm, Micro Ohm Meter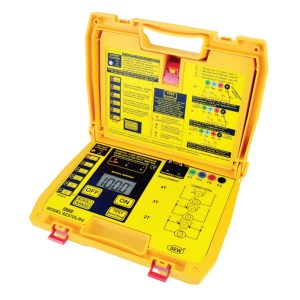 Micro Ohm Meter
To avoid overheating, energy loss, and malfunctions during a power surge, measuring low resistance (also known as continuity testing) is necessary. Low resistance ohmmeters from Megger are precise and straightforward to use, with a precision of 0.1 micro-ohms, making them ideal for troubleshooting.
What is a Micro Ohm Meter?
An ohmmeter measures the electrical resistance, continuity, and its components. They come in various sizes, voltages, and kinds, with varying degrees of accuracy. The three basic types of ohmmeters are:
Micro-ohmmeters (for measuring low resistance).
Standard ohmmeters (for general use).
Meg-ohmmeters (for measuring high resistance).
Micro, mega, and milliohm meters are available with varying degrees of sensitivity.
Switches, circuit breakers, aeroplane frame bonds, and rail and pipeline bonds may be measured using DLROs and micro-ohmmeters.
The logical option is to use a micro-ohmmeter, or "Ductor" tester for very low resistance testing, such as weld joints, switchgear, and switchboard components. Contact resistance must be correctly checked.
Micro Ohm Meter by JUTECH Tester:
JUTECHtester.com has a model that can provide a test current of up to 1,000A for these instruments, ranging from 10A to 200A. Due to the micro-ohm meter's larger current output, it can detect meagre resistance more precisely.
We carry a complete line of micro ohm meters, including the newest line built exclusively for industrial applications. Switchgear production, commissioning, and maintenance rely heavily on contact resistance measurements. Additionally, the digital micro-ohmmeters may be used for other testing applications other than switchgear.
What Makes Micro-Ohmmeters by JUTECH Testers Special?
You must correctly measure low electrical resistance values to correctly diagnose electrical wiring issues and pinpoint the reason for a component or circuit failure. We know this is essential for you to do.
Our Micro-Ohmmeters are accurate, durable, and simple since we provide many hand-held and tabletop devices.
These Micro Ohm meters are always of the highest quality since our engineers constantly examine and enhance their features.
JUTECH Tester offers micro-ohmmeters with test currents ranging from 10 to 200A suited for lab and field applications. Our instruments can correctly measure extremely low resistances within 0.05 percent using a four-lead Kelvin testing technique.
The following are some of the most prominent features of our Micro Ohm Meter:
Reversal of the polarity
Data archiving and reporting
The resolution of the measurements (as low as 0.1)
High current testing can be done for long periods thanks to a robust circuit design.
It is possible to make year-to-year analysis and preventative maintenance choices thanks to automatic temperature correction (model dependent).
Manufacturer:
Select manufacturer